This won't be a thematic post but will instead function as more of an assessment of the progress I've been making,not only with this site (which is minimal in the visible sense),but with other facets of my life.  I don't generally talk much about what is going on with me personally,but with how busy I have been recently I find it somewhat necessary to condense some of those thoughts into written form.
First off,I have finally completed the college application process.  I mailed my last application (to the University of Minnesota) yesterday.  I'm quite relieved to have moved beyond the application stage,especially as my initial application timeline coincided with preparations for the field operation in 29 Palms at the end of September.
The University of Minnesota asked a question I didn't encounter elsewhere –they asked me to briefly state my academic interests and career goals.  I stated simply "It is my intent to pursue a dual major in English Literature and Russian as a precursor to a graduate degree in Slavic Languages and Literature. Ultimately,I wish to teach at a post-secondary level."  I can't think of a more simple way of putting it,though the Russian part is fluid at the moment.  I applied to the University of Wisconsin-Madison as an English Literature and Polish dual major,though I would like to speak both by the time I'm finished with my undergraduate degree.  I should also add that in no way does teaching at the post-secondary level mean I'm giving up on the idea of being a writer.  I'm just realistic about the need to put food on the table.
My friend (and host) Chris will go on Terminal Leave from the Marines today at noon.  Chris was my first roommate out here on Pendleton and has become a fast friend.  Though I am sad to see him leave I am happy that he's progressing beyond the Corps into the private sector.  Chris recently gained his PHP certification,which merits congratulations as well.  Take care of yourself,man,and I'll see you when Jo and I pass through Denver in twenty days.
At the left you will notice I'm currently reading Zamyatin's We,a Russian dystopian novel dating from 1921.  We is generally considered the original dystopian novel,predating and influencing such works as 1984 and Brave New World.
The novel is significant for other reasons as well.  Zamyatin,an engineer,makes extensive use of mathematics for metaphor,and often his sentences look like they could be equations.  He also employs a unique writing style,one he termed the "language of thought,"a more evolved sort of stream of consciousness technique.  Zamyatin explains it best in this excerpt from his essay "On Language"(1919-20):
"[I]f you try to follow the language of thought in your own mind,you will not find even he simplest sentences —only shreds,fragments of simple sentences.  Only the most essential elements of a sentence are used:sometimes only a verb or only an epithet,an object …At first glance this assertion may seem paradoxical:why should fragments of sentences,scattered as after an explosion,have greater effect on the reader than the same thoughts and images arranged in regular,steady,marching ranks? …[because] you meet the reader's natural instinctive need. You do not compel him to skim…"
One might suspect such a syntactical style would be difficult to adjust to,but I've found Zamyatin's writing fresh and interesting.  I've enjoyed the book so far (I'm about 7 chapters in) and would heartily recommend it to anyone with an inclination for reading something atypical and thought-compelling.
On the website front,I'm looking into making some changes to the site,some subtle,some more sweeping.  Nothing is set in stone at all,and of course the readership is quite small (due to my erratic posting),but I'm trying to give it more visual appeal while upping the frequency and quality of the posting back to my previously mentioned levels.  Now that the albatross of application season is no longer around my neck I hope to be able to divert more brainpower to getting things back to the way they should be around here.
This brings me to my next to last point –the post I've been meaning to make for over a week now.  I've found that a good deal of research is required,and in the interest of accuracy I'd like to have all my facts straight before I make it.  I will throw out one hint –it will concern the Midwest,applied technology,current infrastructure,and transportation theory.
Lastly,with the Detroit Tigers playing in the American League Championship Series for the right to advance to the World Series,I'm more than a little disappointed they aren't doing so in a revitalized Tiger Stadium instead of their shiny corporate-shill digs (Comerica Park).  Sadly,Tiger Stadium's luck has run out.  This past June the Mayor of Detroit,Kwame Kilpatrick,announced the venerable old building,built in 1911,would be demolished starting this autumn.  Oh,what could have been.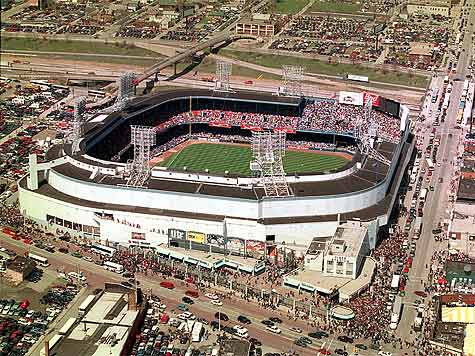 Farewell.